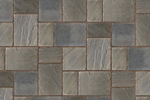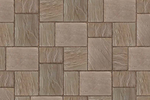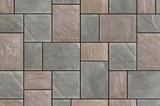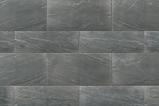 Dawn Mist Pebble Taupe Dawn/Peb Mix Smoke Shale Rect
Please Note
*Dawn/Peb Mix was blended at job site.

*The colors shown should only be used as a guide. Final color selections should always be made from actual samples.
EnduraColor™ Plus
Richcliff features EnduraColor™ Plus, a proprietary blended layer of nature's highest performing minerals that never fade. A complex blend of granite and quartz are combined with non-fading color pigments that hold fast under UV light and extreme weather conditions. It virtually outperforms any other paver surface when it comes to surface wear, color retention and its ability to repel even the nastiest staining substances. Choosing Richcliff, with EnduraColor Plus, will ensure your patio, driveway, outdoor kitchen or pool deck will look like new, even after years of wear and tear.
Reala™ Surface Technology
Ultra-realistic textures cast from natural stone, brick and historic cobblestone.
Ultima™ Concrete Technology
This proprietary manufacturing process creates pavers and walls with up to four times the strength of poured concrete.
Surface Texture
Flagstone